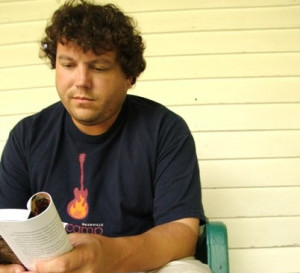 The name is Gavin, which seems to be more common these days, but back when I was named Gavin the only one I ever knew of was Gavin McCloud. We would have not been confused even with the name recognition back in those days because I have a rather robust head of hair.
I classify myself as a misfit renaissance man. I've spent years as a firefighter/EMT, early childhood education trainer & consultant, caddie, web developer, board member, consultant, writer, and more. My passion for the past 16plus years has been youth ministry. From short term mission camps, large church volunteering & staffing, parachurch ministry volunteering, & youth ministry trainer I've lived a long life around teenagers & young adults through the church.
I've been an early adopter to social media & digital communications for the past 14 years from web design, coding, blogging, digital community building, etc where I not only participate in these forums, but I try to observe and predict behavioral patterns as well as cultural trends. It is due to these actions I refer to myself as a Social Media Participant Anthropologist.
I operate and start up curriculum site for Wesleyan Youth Ministries called Youthworker Circuit. As well I am Director of Youth Ministries at Good Shepherd United Methodist Church in Hendersonville, TN. I currently work on teams at Proof Branding, YouthWorker Movement, and All American Pest Control. My friend John & I are in the process of writing a new book called "Sticky Sheep" which we hope to finish sometime within our lifetime..
It is my passion these days to help youthworkers, churches, non-profits, small businesses, and individuals navigate through this technological shift gracefully and effectively. I specialize in translation (helping interpret what is actually being said & trade language), creative solutions (I'll take what you have in time & resource to develop options that will match your goals), and challenging the process (what you might need is not what you think you need), as well as simplified development.
I live in Nashville (Old Hickory really) Tennessee with my wife Erin & first son Brooks. We have two one farting dogs that are known as the "loud" dogs in our neighborhood.