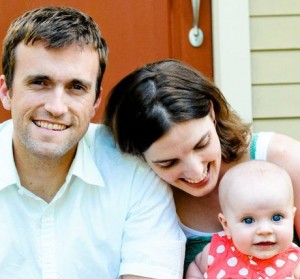 Sam Davidson & his wife Lynnette have been good friends of mine for almost a decade. In what started out as a coffee house conversation on church & ministry has led to family traditions, ministry sharing, taking on the world, & now building a business. So when Sam offered to share what I didn't need in my life, as part of his book on 50 Things Your Life Doesn't Need, I was in.
For those not familiar with Sam, he's a is a writer, entrepreneur, and dreamer who believes that the world needs more passionate people. To help people find and live their passion. He is the co-founder of Cool People Care and now Proof Branding, and lives in Nashville with Lynnette and daughter Lindley (who is just the cutest thing ever).
So what don't I need?
One Thing Gavin Richardson Doesn't Need: Pointless Technology

If you've read Gavin's blog – or spent any time with him in the last half-decade – you'll know that he stays up on current trends and toys in the technological realm. But what's really refreshing about him is that he's always searching for a focus, for the "so what" behind all of our newfangled advancements.

This was confirmed for me as he and I recently led a workshop together for church leaders. We discussed social media and online marketing for congregations. Gavin didn't simply wade through what's available when it comes to platforms and tools; he made sure to stress the need to use these features to build community, do justice, and accomplish something worthwhile.

I think the same is true when it comes to finding and living our passion. We've got to have a "so what" moment.

I firmly believe the world needs more passionate people. This is why I wrote 50 Things Your Life Doesn't Need. It's a guide – a field manual of sorts – to getting rid of what doesn't matter so you can focus on what does.

But when you find your passion, make sure to ask yourself why it is you're passionate. You like music? Love art or sports? Crazy about a certain author or food? Big deal. Keep digging deeper to find out what it means.

Passions are good, but using them to accomplish something meaningful is great.

Other things (actually in the book) that Gavin Richardson doesn't need:
#13 – Unpassionate activism
#22 – Analog versions of digital stuff
#28 – Gadgets that only do one thing
#34 – Shiny tennis shoes
The shoes is a really funny one!.. I do like my thank you cards. Still figuring out #13..